Hi guys,
Have a nice day!
I am setup cube orange and Here 3 GPS. But I have a little problem with the cube, I can't ACCEL Calibration. I tried many times with 4.0.7 copter stable firmware but failed. ( it also fails with older stable firmware)
I realized that the IMU sensor seems to be not good. IMU2 az2 has a high value (-15999) and does not change when Pixhawk moves.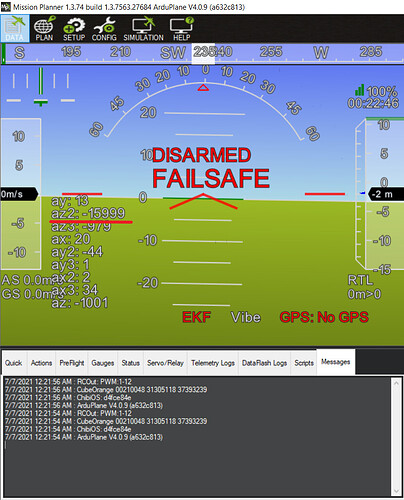 I also tried disabling IMU 2 (INS_USE2 = 0) and setting EK2_IMU_MASK = 5. But still no success.
If I set INS_ENABLE_MASK = 5 to disable IMU2, Pixhawk shows error Check BRD_TYPE: INS: unable to initialise driver, but I am sure BRD_TYPE = 3.
( same result if i disable both IMU 1 and 2 or 2 and 3)
I have attached log file.
Log_bitmask=655358 Full IMU
Log_bitmask( Default)
Could you help or give me advice?
Thanks
Trinh