Hi!
I'm working on camera control for my copter and have encountered one problem…
Essentially I'm using a Mavlink capable camera, it's a Gopro Hero 7 on a Storm32 Gimbal that acts as the Mavlink connection. In the Gimbal software I can select the Mavlink camera number (Component ID) as which it acts.
Situation 1, everything fine:
Herelink, Gimbal and Pixhawk connected via Mavlink, Laptop connected via USB to Pixhawk. In Mission Planner I can see the Mavlink camera component (and its parameters) and in QGroundcontrol I have extended camera functionality (photo, video, battery, storage, etc.)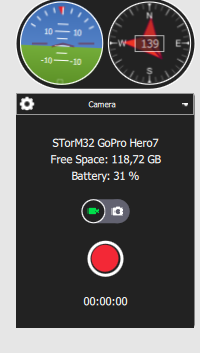 Situation 2, not so fine:
Like before but Laptop connected to Herelink via Hotspot. Now I only can see the camera in Mission planner when I select it to be Mavlink camera 2 (Component ID 101) in the gimbal software. I cannot connect to it being camera 1 (ID 100). But QGroundcontrol only offers camera control for the first camera, so I cannot control it at all (both on Herelink QGC and PC QGC).
It seems to me that the Herelink connection does kind of filter out messages from camera 1 (or use them internally??), but QGroundcontrol only is able to control camera 1. Is there any way to keep the (really cool) Mavlink camera control functionality? Any hints or ideas?