Please forgive my ignorance here. I was just getting comfortable with all of this (Pixhawk 2.1/Cube, Here GPS, RC TX basics in general, etc…) a couple of years ago when I put it away for a while. I've broken it back out and I am determined to complete the heavy lift hexacopter I started. To say a LOT has changed is an understatement. Actually, advanced is probably the better word. Regardless, I feel like a stroke patient learning to talk again. So much I have forgotten and simply don't comfortably grasp again.
Before even starting to go at this again, I upgraded from the Cube Black with Edison Board to the Cube Orange with ADS-B Board to be at the current standard. I upgraded both HERE GPS units to HERE 3 Units for dual UAVCAN GPS units. I also upgraded the video and controller to Herelink. Now starts the re-learning. Starting goal is to get the basic hex with no camera or extras on it in the air and operating correctly. The only upgrade on it is the large retracts that will be required, so they're on there to start with.
Probably my biggest problem is button mapping. I'm having trouble wrapping my head around not just the difference between Herelink button mapping and Soles TX button mapping, but when and where each one should be used. My general understanding is as follows:
Mapping buttons from within the Herelink Settings maps buttons to the SBUS control channels.

Mapping buttons from within the Solex TX Settings maps buttons to functions in MavLink, not the RC channels. (honestly, I may not really understand this even though I can say it… I never did get very fluent in Mission Planner & MavLink)

You CAN, but as a general rule, you SHOULDN'T map the same button in both settings area?

Aircraft Modes MUST be mapped from within Solex TX, and NOT from the Herelink Settings area. (FLTMODE_CH must be set to 0)
I have been going through everything I can find on setting up retractable gear with Herelink running Solex TX. My head hurts, and I'm not even close to feeling I have it right. My goal is as follows:
Have the Herelink D button configured to toggle the landing gear up or down with every long press. However, I also want the Cube to be able to automatically raise and lower the gear based on altitude, on all RTL activations, etc. I don't want to program the D button to work, but do it in such a way that I prevent the Cube from activating the landing gear safety functions it can employ.
I currently have a button mapped in Herelink Settings for Toggle, on a Long Press of "D". 1100 is the default value (gear down/deployed). 1900 is the toggle value (gear up/retracted). Mapping to SBUS CH9, on Bus 1.
I have my signal line to the gear servo(s) on the AUX 1 output on the Cube carrier board. I also have both SERVO9 and RC9 FUNCTION set to 29 for Landing Gear. Pictures are below to show other SERVO9 and RC9 settings: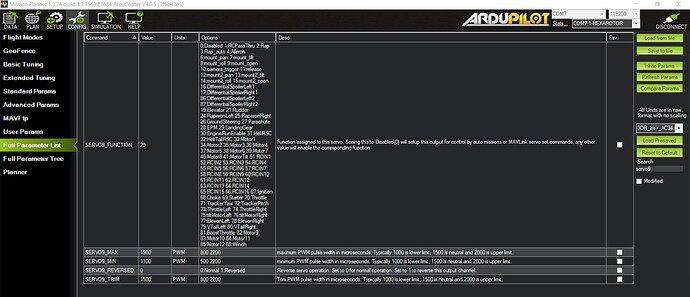 On the surface, it appears to work correctly. A long press on button D toggles the gear up and down. Radio Calibration screen in MP confirms gear goes up when CH9 toggles to 1900, and gear deploys down when toggling CH9 to 1100. I'm just not sure if I'm losing safety functions the flight controller offers for taking control of the gear and deploying/retracting in appropriate situations (like RTL or specific altitudes).
Any help, advice, or reassurance would be greatly appreciated.
Chuck