Any info on what company manufactures the Cube Blue in the USA. Is it still Hextronik Ltd?
For what it is worth - this questions is in regards to an application we are submitting that requires all components to be made outside of China. All documentation we could find online pointed towards Hextronik being in Hong Kong (which is recognized as China for us). However - I noticed that earlier on LinkedIn Philip posted something about Hex being based in Singapore. Is Hex different than Hextronik. If so - any documentation regarding their origin/HQ would be greatly appreciated.
hextronik is unrelated, and nothing to do with hex/cubepilot
hextronik is the company name behind hobbyking, so not sure where you got this info from
Thanks for the info - I must have mixed this up somewhere in my notes be assuming Hex was just a shortened form of Hextronics. My bad.
Good Evening All,
It seems like the review board I am submitting for approval to (this aircraft is for defense purposes) is requiring additional information from us.
Is there any documentation that I can retrieve that depicts the fact that the Cube Pilot is NDAA and Executive order 13981 compliant?
I can't seem to find official documentation regarding the origin of Hex - so any help on that would be greatly appreciated. Basically just looking for documents that go in hand with the following comment made on LinkedIn. Thanks!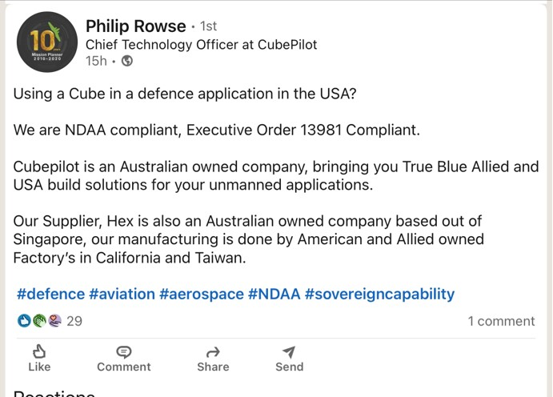 what company are you from and where are you located? Is this for a US government tender?
as michael said, hextronik is nothing to do with us, that is Hobbyking.
Our company is Hexaero Pte ltd Singapore and can bee looked up. I am the owner of Hexaero.
I am representing a project under Virginia Tech. Contract request is for department of defense. I will look up Hexaero to see what is found - googling Hex did not show anything about the origin country.
I think the integral issue stems from an initial Hexaero search showing a Hong King residence (which is being recognized as China).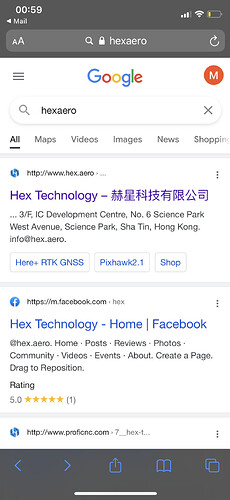 Seems like adding the PTE makes the difference in accessing extra documentation.
Is there any info that shows Hex = Hexaero PTE?
Seems like someone prior to us submitted the fact that the Cube was made by Hextronic - which is why we are running into this issue.
the cube is NOT made by hextronic, it never has been and never will be.
Hexaero pte ltd is hexaero pte ltd, it is nothing else.
I am the owner, and that's all there is to it.
If someone is submitting false information about our company, I dont know how to answer that other than to say that this is false.
May I ask who is saying this? feel free to put them in contact with us.
Hey Philip,
So this is the issue that we have run into. It seems like previous submissions for approval to the DOD indicated that the Cube was made by Hextronic. It seems like the "Hextronic" assumption was carried over after one party (don't know who) was approved via that designation. However, as of April 2021 - Hong Kong is now included as the PRC and will not get approved.
We correctly stated that the cube is manufactured by Hexaero in our submission (after help from this forum) - but they are challenging that statement. Mainly because of what I stated above. Thus, we are looking to dispel this notion of a Hextronic pairing through our submission to the DOD.
Would you be able to send me a signed document/release that firmly states that the Cube is made by a partnership between Hexaero PTE, CubePilot, and ProfiCNC? Firmly stating that Hextronic proves no relationship with the companies would also be very helpful! Once I have that I have enough information to show that neither of the companies are based in Hong Kong. My email is mgandhi@vt.edu
Also, just some additional information is that this project is being front-run by DTRA so they are the main party submitting for DOD approval.
Hey Philip,
I received the email. Thank you for helping us out. I will keep y'all posted if I run into any additional issues.