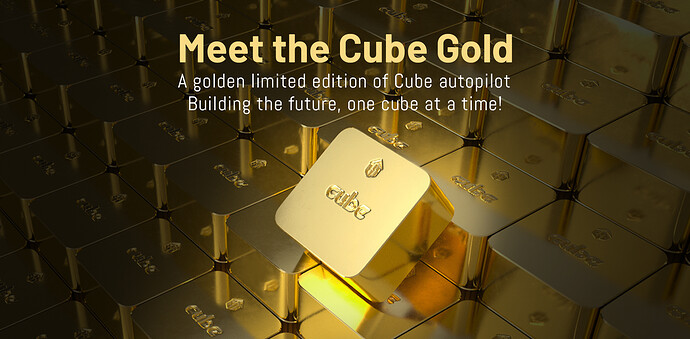 At the 2019 CubePilot Conference, we announced that CubePilot will randomly give away 5 Golden Cube (aka Cube Gold) to our customers and invite them to attend 2020 CubePilot Conference and share their stories with Cube Gold at the conference. However, during these uncertain times, we have decided to cancel the 2020 CubePilot Conference.
We keep our promise that we will prepare not only 5, but 100 Cube Gold for our global customers. Yes, 100 Cube Gold.
You may wonder what Cube Gold is. Cube Gold is a golden limited edition of Cube autopilot. It has all the same features as Cube Orange, plus a shiny golden case.
We want this Cube Gold to be exclusive, special and most importantly, a surprise for our customers. So, we decided to hide these 100 Cube Gold inside Cube Orange boxes, and randomly ship to our customers. Can you imagine when you receive the Cube Orange package that you ordered, and it turns out to be a Cube Gold? We bet you will love it.
For those who are interested in Cube Gold, we would suggest it is time to place your order. The more Cube Orange you order, the higher the chance will be of getting a Cube Gold. Is Cube Gold for sale? How do you put a value on this much bling? Simple! 1 Bitcoin would do it!
For those who did get a Cube Gold, we would love to hear your story and share your joy. Post your Cube Gold photo or video on Facebook, Instagram, Twitter or Youtube. Use #MyCubeGold and tag CubePilot. In return, we will send you the latest CubePilot T-shirt.
Now let us wait and see who gets the Cube Gold.
For more product information, please visit: www.CubePilot.org