Hi Everyone!
I have this monster, an Octacopter, 160KV T-Motor 22" props, 12S (2 x 6S 20Amp), 13KG with betteries, BlackCube, Here 2 GPS and HereLink REmote.
I have a problem to keep the drone steady, when i leave the remote on Loiter to check the drone keep the position, start to ramble, especially when is very near to the ground (it must be near to the ground for the function it has to do).
So, The idea of this drone is to hookup a hook to a metal bar, so I need to be the closest I can with the drone, in this case, to the stair.
The problem I have is its too dificult to keep the position, the drone start to ramble arround, and its almost imposible to do this on a precisely way. I have a front dinstance sensor, but I so worry about to keep the position that I never saw it. On the lasts flights, I even use althold, because the Loiter was so bad because glitch GPS.
My main problems are:
-When I move the sticks the drone react so hard, very dificult to have soft movements
-The speed to lading is too hard too
-Dificult to keep a position
This are my PID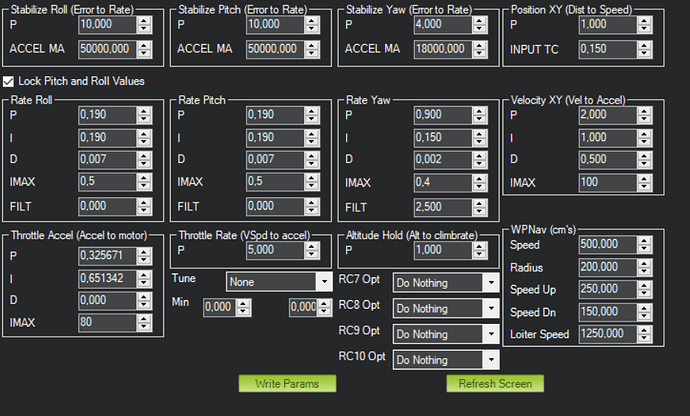 About the peronalize tunning about filters and other stuff, here they are
So, cheking my logs, start to check the ATT
Roll:
In general, looks good I think, but when I move the stick side to side, I can see this and i think its not too good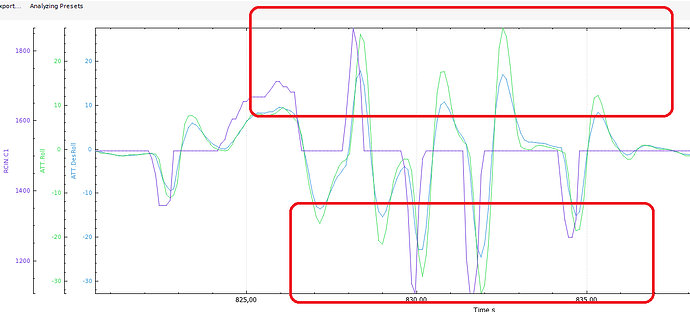 On the pitch is the same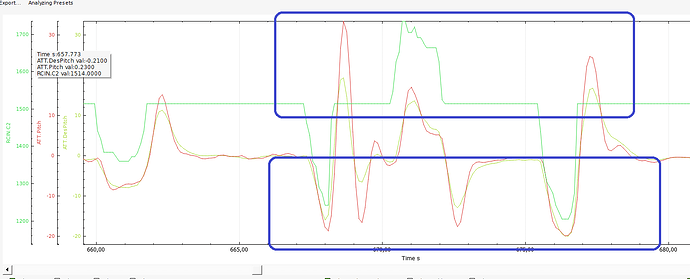 Here are some videos
Here are the Logs
https://4abe7f30-a114-4c14-b579-6ab3161f3494.usrfiles.com/archives/4abe7f_09323edd2581453b88a4bc08a0f77400.zip
If you guys can give it a look pls, I will apreciatte your help and comments!!!
Thanks!