After eagerly unboxing my new Herelink and explicitly following the wiki setup instructions it will not connect to QGC or Solex and gives the message 'Waiting For Vehicle Connection'.
My setup is as follows.
Herelink Air unit connections:
UART to Black Cube Telem 2. Serial2 protocol = 1. As far as the baud rates I have tried most of them.
To my knowledge there is no documentation which describes how to connect a Herelink into a cube other than to plug it into a Telem port. Both products are made by Proficnc but you don't describe how to setup the connection!
sBus1 to Cube RCIN
sBus 2 to Gremsy gimbal
12V power supply connected.
Cube running Copter 4.0.3
The Controller is paired.
When turning the Controller off the Cube will Beep so there is some sort of connection?
The Air Unit LED2 is green. LED1 is very dim.
During the install I carried out all the uploads, pairing, calibrations, button setting etc twice and get the same 'Waiting For Vehicle Connection' message.
I also get this error message.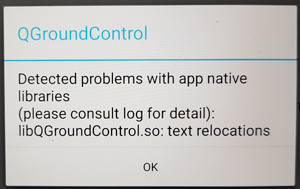 This system is basically an Android device which normally can be up and running soon after unboxing. With the Herelink you have to work through multiple web setup pages, watch videos and run setup programs, preform updates, calibrations and whole lot more then to find it won't work. For a quality product like this it should be plug and play out of the box instead it is a time consuming nightmare!
I have also found the following.
The air unit mounting bracket looks great, but the screws are too long and wont' screw into the paint filled holes. There is no slot in the screw top so you can't tighten them.
The Key is printed on microscopic sicker stuck on the cellophane packaging which is the first thing to be binned and lost.
There is no power supply included. Who uses 3S on a copter? The cube comes with a power brick and even Gremsy supply a 12v UBEC.
There is no SD card supplied.
The solution to last two issues is to buy a UBEC and SD card from another vendor so the Herelink will work.
Putting aside the above issues I would like to get my Herelink working.
If anyone can help, I would appreciate it!