I have received my Orange Cube this week and installed Mission Planner on a freshly installed windows 8.1 laptop. I could see the Cube in device manager and Mission Planner but could not connect. (I could see one Cube name + port, not two (mavlink&slcan) which you should see in the port list)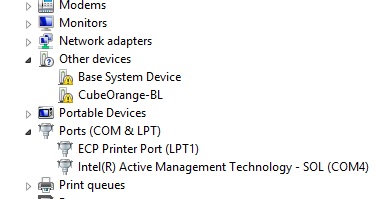 I followed the instructions I found in this post
So I uninstalled the drivers in device manager and installed latest driver.msi (created 10/10/2019), but when checking in device manager, "The drivers for this device are not installed. (Code 28)"
I don't know if this is relevant, but the left orange cube led is constantly on.
I then checked for beta updates in the help section, installed them but still: no drivers and now I don't even see any Cube port listed in the MP port list anymore.
I uninstalled MP and installed the beta version, and still nothing…
In device manager I do see CubeOrange-BL under "other devices" (still without drivers), but nothing under "ports"
What am I doing wrong and/or what could I do next to fix this issue?
Any help is much appreciated!
Mission Planner is version 1.3.7.0 build 1.3.7284.4576
(PS: is there any way to check if the cube itself is healthy? I'm sure it is, but I'm just slightly starting to get worried)