Hi Friends,
On a Quadcopter with Black Cube 2.1, AP 3.6.11, there are many occurrences in which we get pre-arm checks failures due to Gyros or Accel. inconsistent.
After enabling logging while disarmed, we see a significant deviation of IMU2 readings from the other IMUs: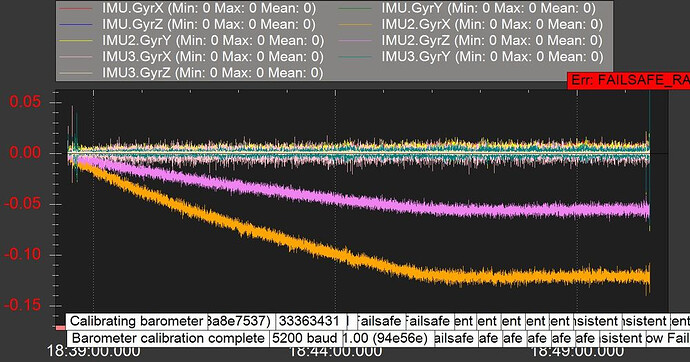 Also, the slope of the deviation seems to follow the temperature rise (as measured by IMU1) very closely, although with a negative coefficient:
We noticed that the IMU2.T is always 0, which may be the reason for IMU2 behaving differently from IMU1 and 3 with temperature changes.
I understand that the IMU2 temperature is deliberately not read due to its proximity to IMU1 (so IMU1.T can be used) - is this correct?
Of course, this only happens on "cold start", before Cube is heated to to its target Temperature.
Reset after reaching the target Temp. solves the issue, but it is not an acceptable workaround.
This issue happens on different Cubes (identical builds, but different drones) in different locations around the world.
Is this a known feature / issue?
Did you happen to experience this as well?
Thanks,
Ilya.