Hello,
I have been battling my Here+ for some weeks trying to get a consistent fix state and would be very grateful for assistance in getting this working - reliably.
Consider this setup for a UAV application (using Ublox fw 1.4):
Here+ Base station
situated in open clear skies,
mounted on a 13cm dia metallic ground plane,
about 1.8m above ground,
default/ stock Taoglass antenna,
connected to PC via USB
low kp values (1-2)
good signal strength (13 sats above 40)
two GNSS units mounted on UAV (Here+ (GPS1) + Here (GPS2))
Mission Planner (v 1.3.66 build 1.3.7100)
UAV connected via 3DR modems

@57600

bd
M8P autoconfig: checked
The base (while connected to U-Center and using an NTRIP server), can in principle achieve RTK Fix (at times though vacillating and dropping to Float or even 3D states).
After disconnecting from U-center, I take the coordinates acquired in 3. and enter them in the GPS inject dialog in Mission Planner as a fixed position and choose "Use".
Then "Using Fixed LLA" is displayed, (with the coordinates previously entered).
Yet even under these circumstances, the GPS status of the relevant GPS regularly only shows as 5/ rtk Float.
For seconds at a time, it will jump to "Fixed", but for 99.5% of the time it stays at "Float" - see image: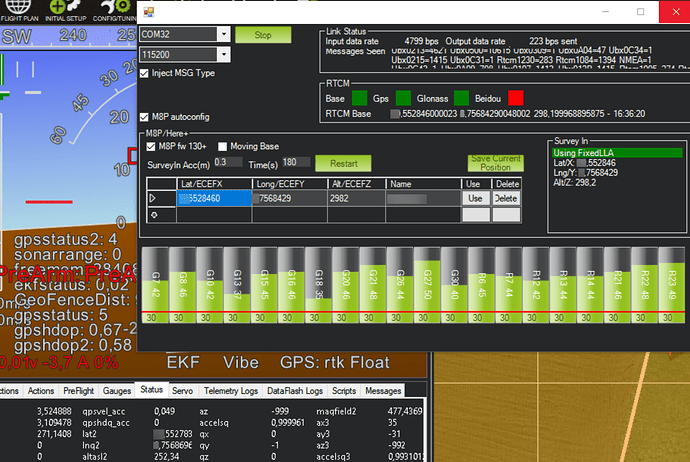 For my particular application, I need the accuracy of "Fixed". But having read every doc, post, hint and resource I could find, I am simply at a loss how to achieve it, and would need some competent guidance from the makers of this hardware to get to the accuracy advertised in a reliable way.
For starters, a suitable Ublox config for the module might be helpful, to get a correct reference setup to quickly achieve a fix using a NTRIP correction source.
(I have tried a variety of params, then reset, and also re-flashed fw1.4, but am not certain of the best setup, e.g. TMODE3. At times I can get to "Fixed" fast, other times, it takes minutes, even with NTRIP corrections streaming in).
Therefore, a reference, tested config to upload from U-center seems helpful.
Secondly, it is inexplicable to me, how a fixed solution (in U-Center) would drop to primarily Float when connected in MP, and why the Fixed state is not held under the conditions outlined above.
Thirdly, I wonder if (using port 500) and connecting U-Center to MP via tcp (in order to continue to stream NTRIP corrections) could do any good to improve this dilemma.
(It seems that once I have entered correct and fixed coordinates for the base in the MP dialog, that should be sufficient.)
I need to get the system working to centimeter accuracy and am looking forward to competent advice to get there - let me know if more info is needed. Thank you!