Hi!
One of our drones is showing a weird discrepancy between the number of satellites for each Here3 receiver (sometimes 8 satellites while the other gets 16!). We've been using a dual Here3 setup since 2020 and I don't recall any similar episode.
Setup:
Cube Orange+
Kore Carrier Board
Dual Here3 (simetrically placed)
Important Considerations:
There are other drones, same model, that aren't showing this issue
We swapped CAN ports and the issue was still in the same receiver
Antena interference is unlikely because of the simetric placement and lso because this issue is not happening in other drones.
The difference sometimes gets smaller, but there is a difference almost all the time.
*Parameters are correct
*The receivers are in the same FW and version.
The "bad" GPS is indeed showing much worse GPA values, but the latitude and longitude reported through the flight, from both "bad" and "good" receivers, are perfectly matched.
Screenshots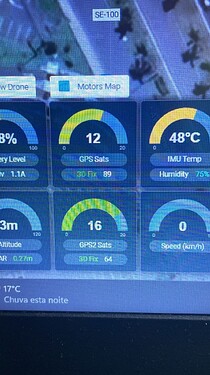 **Link to LOGS"
https://drive.google.com/drive/folders/1FiAfmymgP33VA6Ahzo6ZShRFOAEZacTv
We'll change the receiver, but in the meantime I'd like to dig deeper on this matter.
Questions
What could cause such an obstruction?
Could a small interference on the Here3 cable (the cable, not the receiver itself) cause that?